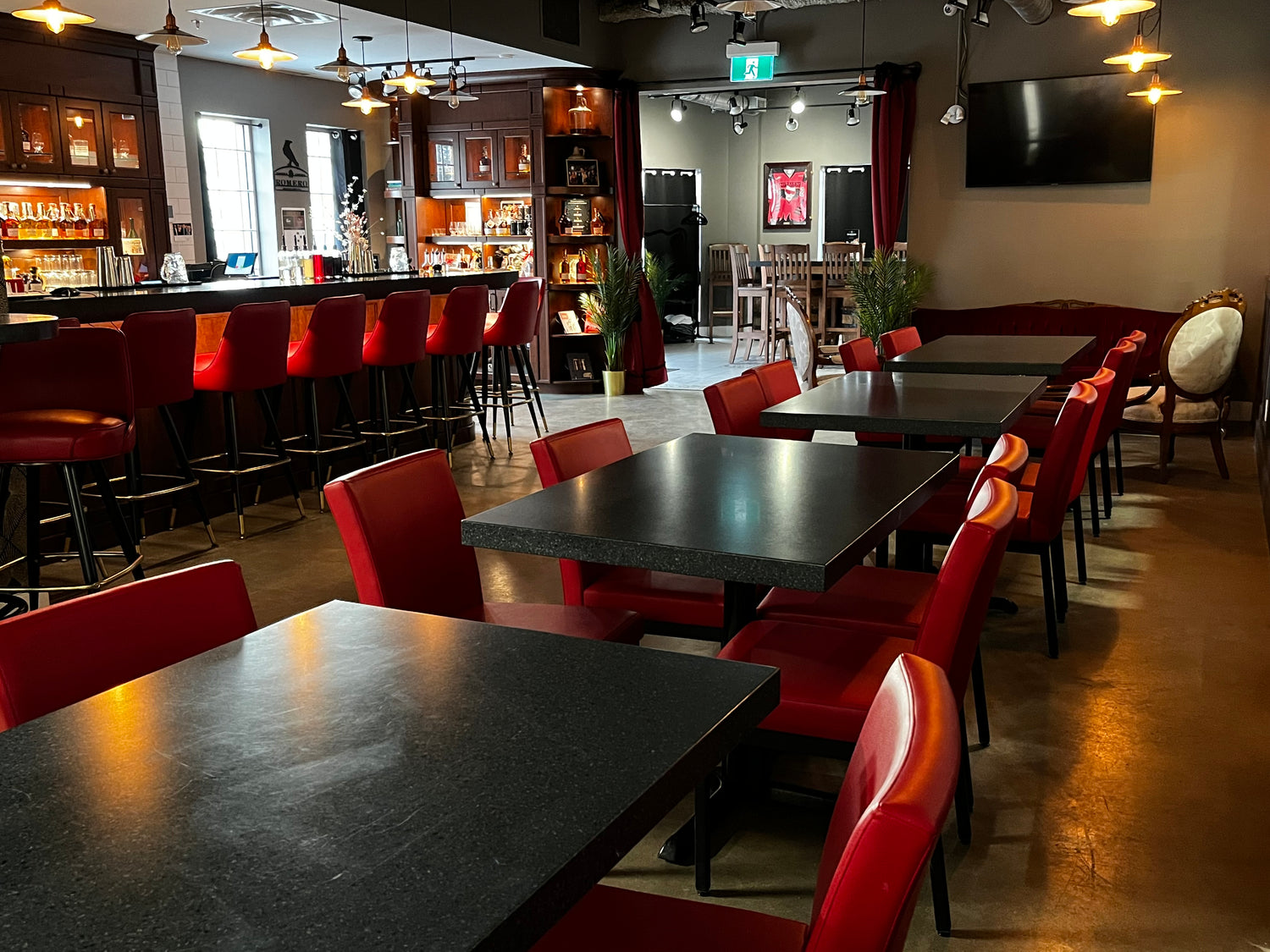 Menu
Tapas, premium cocktails, no and low alc. options.
Tapas
Combine to make a meal or share with friends.
Meat & Cheese Board

Fine meats and cheeses, pickled vegetables and crackers. 25

Spanish Meatballs

Slow cooked in red wine and tomato sauce, served on a bed of rice. 19

Olive Tapenade with Hummus

A seasoned spread made with olives, sundried tomatoes and garlic served with fresh bread and hummus. 9

Olive Tapenade with Goat Cheese

A seasoned spread made with olives, sundried tomatoes and garlic served with fresh bread and goat cheese. 12

Empanadas - Beef

Two hand made beef empanadas served with aioli sauce and a side of fresh vegetables. 21

Empanadas - Spinach and Feta

Two hand made spinach and feta empanadas served with aioli sauce and a side of fresh vegetables. 21

Calamari

Tender calamari, lightly breaded and fried. Served with marinara sauce. 19

Crab Cakes

Three crab cakes, delicately seasoned and broiled. Served with aioli. 25.50

Breaded Shrimp

Crispy coated shrimp served with an aioli sauce. $17

Dry Ribs

Garlic pork ribs with a light seasoning. Served with ranch dressing and fresh cut vegetables. 16

Wings

Choice of salt and pepper or hot wings. Served with ranch dressing and freshly cut vegetables. 18.50

Gourmet Popcorn

A savoury parmesan and pepper popcorn. 6

Cheesecake

Served with chocolate sauce or a rum infused cherry sauce. 9

Pan Au Chocolate

Freshly baked in house, this Viennoiserie pastry has a dark chocolate centre and a chocolate drizzle sauce. 9
Canadian Cocktail N.2 (2 oz)

Adapted from the the original "Canadian Cocktail", which in it's first form was not all that Canadian. First listed in "Recipes for Mixed Drinks" in 1917.

Romero Amber Rum
Dry Curacao
Celery Bitters
Lemon juice
15

Lasandro Daisy (2 oz)

Rum Runner Emporer Pic partner in crime. Florence Lassandro should have had a cocktail named after her. Well, years later, here it is.

House rum
Saskatoon Berry Vermouth
Maraschino
Pineapple
Lime
Bitters
14

Wild Rose Spritz (1.5 oz)

Canadian haskap berries and honey make up this super fresh riff on an airmail- which first took flight in 1918.

House Rum
Cocchi Americano
Haskap Honey
Rose
Sparkling Wine

15

Toasted Buckwheat Old Fashioned (2oz)

A perfect take on a rum old fashioned, made with buckwheat, which adds a rich toasted note to a classic.

Romero Amber Rum
Romero Dark Rum
Toasted Buckwheat Orgeat
Hint of Coffee and Bitters

16

Tropically Influenced Cocktails
McLaughlin Six (2 oz)

The McLaughlin Six was the car that the rum runners used to run rum through the Crowsnest Pass and Elk Valley, so this drink is inspired by travel and tropical ingredients.

Dark House Rum
Buckwheat Orgeat
Amaro
Passion Fruit
Lime
Bitters

15

Bow Swizzle (2 oz)

Deceptively boozy and all around delicious, it's about time Calgary had it's own version of a classic swizzle.

Romero Amber Rum
Mint
Peach
Pineapple
Lemon
Peychaud's Bitters

15


Blairmore Hotel Cocktail (1.5 oz)

Rum runner Emilio Picariello also owned the Blairmore Hotel, we've used cherries and a touch of sherry to reflect the aging of Romero rum. This is what we think would have been the perfect serve.

Dark House Rum
Romero Amber Rum
House Cherry Liqueur
Sherry
Touch of Cedar

15

Romero Rum Punch (10 oz)

This earthy, fruity rum punch is perfect for groups! Serves 5 drinks, grab a bottle and enjoy.

House Rum
Rooibos Tea
Mango Syrup
Lemon
Cardamon

55

Sharp Shooter (1 oz)

A shot inspired by Bret "The Hitman" Hart.

House Rum
Amaro
Passionfruit Liqueur

8
Smoked Rum Old Fashioned (2 oz)

Smokey and sweet our version of this classic cocktail has been a crowd please since the cocktail bar opened in 2019. Infused with smoke from our oak barrels.

House Rum
Demerara Syrup
Angostura Bitter

14

Dark and Stormy (1 oz)

A classic rum based cocktail. The spicy ginger beer gives this mule it's kick of flavour.

House Rum
Lime Juice
Spicy Ginger Beer

11

Mojito (1 oz)

Fresh and minty. Your choice of classic lime, berry or passionfruit.

House Rum
Soda Water
Syrup
Lime
Mint

11

The Painkiller (2 oz)

Tropically inspired and oh so tasty!

Dark House Rum
Pineapple
Orange
Coconut Cream
Nutmeg

13.50

Cuba Libre (1oz)

A simple but delicious mix. Try it with our amber or dark house rum

7.50

Beer

Rum Runner Black Ale - A collaboration between Village Brewery and Romero Distilling Co. This rum-infused beer is a must try.
Good Authority Golden Ale

7.50

Wine

Via Terra Negra (red)
Via Terra Blanca (white)

Garnacha - Product of Spain

6oz 10.50 / 8oz 15

Gin, Vodka, Bourbon Cocktails
Prohibition Cocktails (No or low alcohol)
The Cure

Prohibition was intended to be "the cure" to the evils of mankind...temperance, abstinence and prohibition.

Pineapple Juice
Orange Juice
Coconut Cream
Nutmeg

7

Ode to Pearl

Pearl was the daughter of Constable Lawson and the only witness to his murder which has been coined Canada's most infamous rum running murder.

Strawberries
Coconut Cream
Lime
Soda water

7

Nojito

When life gives you lemons, return them, ask for limes and make a nojito!

Lime
House-made Syrup
Mint
Soda Water

7

1916 (>2% alc)

1916, the year tha Alberta entered into prohibition.

Floreale
Pineapple Juice
Local Honey Syrup
Lime Juice
House-made Grenadine
Prosecco

8
Book a Reservation
Please use the form below to book your reservation.
Cocktails/Food Service
Tuesday-Thursday: 3pm to 9pm
Friday: 3pm to 11pm
Saturday: 10am to 11pm
Sunday and Monday: Closed